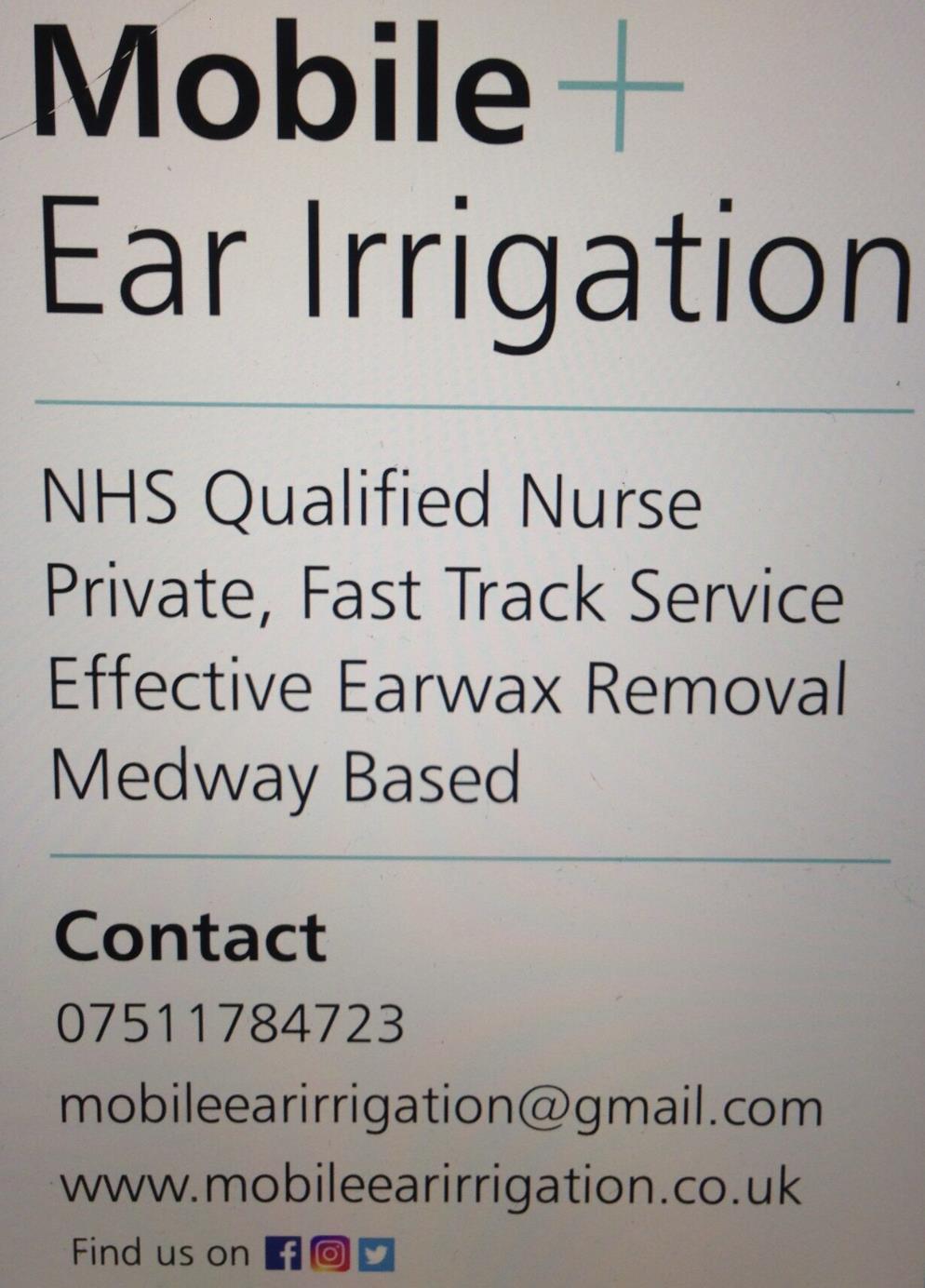 Mobile Ear Irrigation
Please allow us to introduce you to Mobile Ear Irrigation, a private mobile service offering ear care in the comfort of your own home. Many GP surgeries and district nurses have stopped offering an ear irrigation facility and are instead referring patients to a centralised service with an estimated 29 week waiting period. This new centralised service is difficult for a multitude of people to access, especially those who are house-bound, those who have limitations with their mobility and others with numerous pre-existing conditions, for whom travelling to & from hospitals would be troubling. With this in mind, Mobile Ear Irrigation was set up by Emma Ellis an experienced NHS nurse qualified in ear irrigation, to offer a mobile service specialising in providing quick, professional ear syringing for those who require a faster form of treatment within a time frame which suits them. Since setting up this service we have realised how necessary it is, especially for those clients who reside in residential, sheltered accommodation and care homes too, offering ear examinations for anyone who is interested in keeping their ears healthy and for those who may have hearing problems due to the build-up of ear wax and for those who wear hearing aids to ensure that hearing devices fit better & function Since the recent outbreak of the Covid 19 virus, it was necessary to cease work for the protection of both client and staff however, it is now possible by following strict guidelines and protocols set by the Government and the NMC to once again work safely with clients. Slight changes within practice have been made to ensure the safety of both client and Nurse during treatment, by the wearing of PPE equipment. We would ask as a client please if you could wear a face covering too this will help to reduce the spread of this virus. If however after booking an appointment you or any family members living in the same home environment develop symptoms of COVID 19, it is your duty as it is mine to inform us as your Health Professional so that an alternative appointment can be made at a later date. Thank you for your agreement with this matter, as it is all of our responsibility to not spread this virus. If you would like to discuss this further or book a time for us to visit, please contact us on 07511784723.
Mobile Ear Irrigation
Emma

Practice Nurse/ Mobile Ear irrigation Manager

I am a very experienced registered Nurse Bsc Hons, I work as a Practice Nurse in Medway I work within the fields of Diabetes, COPD, Asthma and various Practice Nurse Duties including , travel and baby Immunisations and Ear syringing.
Mobile Ear Irrigation
Mobile Ear Irrigation
07511784723
Monday

Tuesday

Wednesday

17:30 - 18:30

17:30 - 18:30

17:30 - 18:30